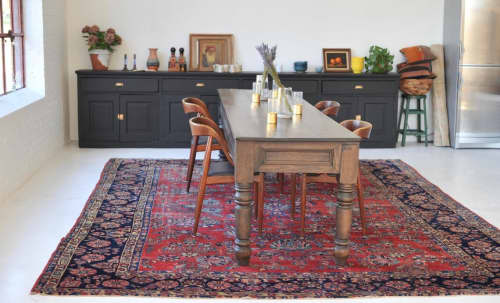 +8

Name: Marjella
Size: 10 x 13
Age: Antique
Pile: Low with patina
About: There aren't many weavers and villages that can pull off the challenging feat of weaving a rug that crosses the chasm of both Classic Persian with nomadic DNA; this rug does that. Botanical and elegant poetry inspired motifs scatter throughout this piece, with the feel of incredibly soft, high-quality, lanolin-rich wool pile. A closer look, you will see that the weave itself, although very fine, is one of a tribal style then super traditional; which can only tell us that this was woven in the region of the Central-Western part of the epicenter of where hand-knotted rugs hail from. Incredibly rich reds, high sheen, deep inky indigo, beautiful chocolate highlights dancing with softer blues, beige, beautiful rose and pink, and even softer mocha notes. When this is in your space, remove all shoes and socks and allow your feet to feel some of the softest and strongest wool it will ever feel. It's hard to tell by pictures, but look at the close ups to see the richness in the wool, it's somewhat telling but only when you feel it will you really understand. There is subtle wear and patina in some areas that I've tried to photograph, but this rug will last another hundred+ years easily. The size alone is tremendous and makes you really appreciate just what it takes to weave a large rug of this caliber.
This rug is one-of-a-kind, only one available. Because of the nature and age of these older/antique handmade pieces, irregularities and age-related wear are likely to exist and are not considered defects.
We always recommend a high-quality custom cut pad for any and all rugs; these pads are made for hand-knotted rugs. They create a body and support the knots of the rug, as well as prevent it from slipping and sliding.
Free Shipping in the US, ask the creator about international shipping.
Have more questions about this item?