+4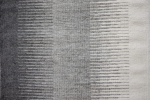 Shipping: US$6.99 shipping in the US, ask the creator about international shipping.
Custom options available, ask the creator for customization.
Product is in stock now
Item Details
This handwoven textile can be used as a rug, wall hanging or accent piece
Shades of grey and white threads are dyed naturally from plants, invertebrates and minerals
Woven on a traditional foot loom in Mexico, 100% wool this textile is deliciously soft, incredibly durable and provides the perfect touch of texture to any room
41" x 24"
Care: Machine wash on cold/delicate cycle and air dry
We are proud to pay our weavers their asking price per design and consider ourselves a team throughout the entire process, from initial design concept in Denver to completion of the product in Mexico