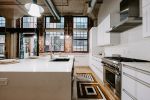 6 People have this item in their cart right now.
Handmade by a family of weavers in Mexico. Black, white and ocre, it is a neutral base that brings dimension to any room. It is soft and durable, the perfect combination for a rug.
100% wool and naturally dyed colors with organic matter from the Earth!
2.5' x 10.5'
Care: Machine wash on cold/delicate cycle and air dry or dry clean
We are proud to pay our weavers their asking price per design and consider ourselves a team throughout the entire process, from initial design in Denver to completion of the product in Mexico.
Please note: this item has a delivery time of 8 weeks
Shipping: UPS 1-5 days
Price $30
Shipping in the US, ask the creator about international shipping.
Estimated Arrival: April 1, 2022
Returns accepted within 14 days
See details
Have more questions about this item?