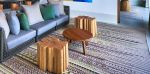 +1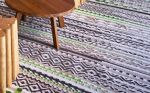 Item Details
Flatweave Rug
Handwoven Flat Weave Rug in Recycled Polyester.This was woven in PET to avoid moisture and stains around the beach area, when clients come back in.
We stitched Tape on the back to make them anti skid and stop from curling them.
The design was difficult but the result was good and everyone was happy
We have done flat weaves in Nylon. Anti Allergen, Wool, Pet , Bamboo Silk, Tencel to name a few materials used.
Designs and no of colours don't matter to us ,its making sure the client is happy.