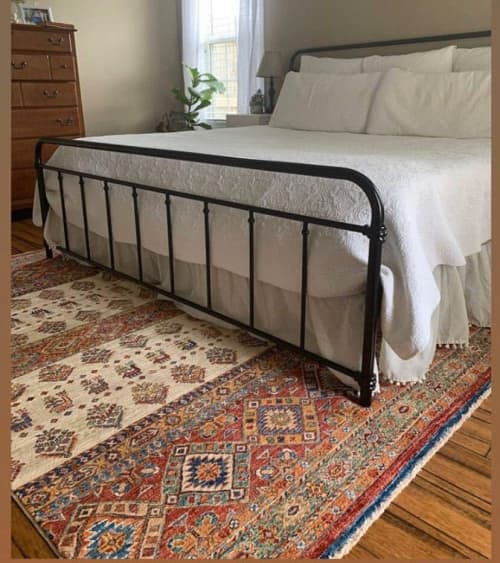 +3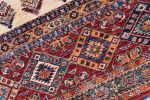 Arcadia in Ivory Afghan Persian Rug
This traditional Afghan rug displays multiple Central Asian motifs, symbolizing the protection of one's family and blessings for one's family. As these two concepts are most important for the Afghan people, it manifests itself not only in their handmade rugs but in their pottery, wood carvings and paintings as well. This rug will be the focal point in your room, transforming your space and pulling out various accent colors for you to play around with. With its rustic design aesthetic, this heritage rug will bring a joyful taste of culture into your life!
Made with fine quality, long staple Ghazni wool, this rug is hand-knotted using the Turkish Knot technique resulting in a beautiful abrash pattern that gives our rugs an added visual texture. Each rug yields a luxurious hand, and is comfortable to walk or sit on.
Color: Natural Ivory and Madder Red
Rug Style: Hand-Knotted
Size: 5'8" x 7'6"
Pile height: Ranges from 0.3 in to 0.4 in (0.75 cm to 1 cm)
Material & Technique: Turkish knots are woven from hand-spun, Ghazni wool. Foundation yarns are cotton.
Average knots per square inch: 105 knots
Rug pad recommended.
Expect variations: As each knot is hand-knotted from natural wool, expect slight variations with approximate carpets sizes. Though some colors and abrash designs may vary slightly in our rugs, we try to do our best to represent the authenticity of our rugs.
Free Shipping in the US, ask the creator about international shipping.
Have more questions about this item?