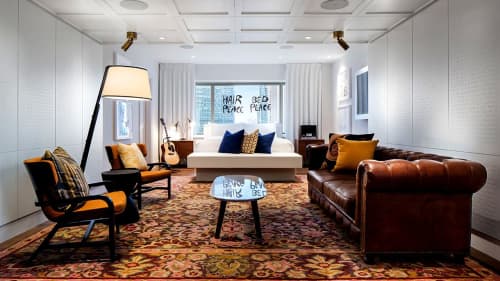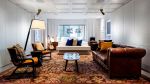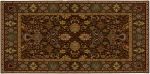 +1

Inquire about Comissioning a Custom piece
When we were commissioned to work on the redesign of this boutique hotel's "John and Yoko" suite, we knew we were facing a unique design challenge.
This suite was where John Lennon and Yoko Ono held their 1969 "Bed-In for Peace" between May 26th and June 2nd as part of their non-violent anti-war protest. John and Yoko gave an open invitation to the media to join them in their suite as they held open forum about the topic of world peace. Rather than recreate the hotel's period décor, the designers draw inspiration from places the couple had lived in or visited, such as London, New York, Tokyo and New Delhi. This allowed us greater freedom to focus on preserving the unique energy of that famous stay.
The redesign of the suite centered around the rearrangement of the furniture. John and Yoko pushed the bed against the far window, creating an open space with a bare-bones seating arrangement. In the original suite, the floor was adorned with a predominantly red Kerman rug, and all the furniture was pushed towards the walls.
The design we chose is representative of the city of Agra, which has been a major center for high quality carpets since the time of the Mughal empire. Characterized by a sense of classic luxury, Agra carpets are associated with the opulent palaces of classical India. Lennon credited his trips to India as among the most productive in his life. He learned sitar from Ravi Shankar, studied with the Maharishi Mahesh Yogi, and wrote almost 50 of the Beatles' most famous songs.
The rug in this suite was made in our tried-and-true Commercial Ultra-Dense quality. The Ultra-Dense construction survives heavy-commercial grade foot traffic with ease, ensuring consistent performance for years and years. We only use New Zealand wool of the highest lanolin content for our commercial items.
We chose an Agra-influenced pattern featuring a wide border and traditional rosettes. We chose soft, earthy tones to match the suite's leather sofa and saffron-colored accents. The design eschews the need for a center medallion; instead the floral details run uninterrupted, bringing an organic sense of movement.
The designers decided to incorporate Lennon's travels to India in the form of the rug. The rug provides a stimulating, yet grounding energy to the space.
Have more questions about this item?