+6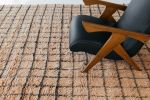 Alwarda, Atlas Collection by Mehraban - Rugs
Featured In Santa Monica Proper Hotel, Santa Monica, CA
The Haute Bohemian rugs commissioned for the Santa Monica Proper are original works, meant to evoke the unique romance and breezy beach scene of Kelly Wearstler's interiors at the her hallmark property in Santa Monica. These rugs are notable for their texture and color. They are derived from singular village weavings. Taken altogether there is something part seventies Italian, part Mediterranean elegance and totally fresh.
Alwarda is a beautiful checkered pile weave from our Atlas Collection. Salmon colored with highly contrasting dark brown lines make this rug a notable and exciting piece. Designed in Los Angeles with inspiration from the Moroccan world, this rug is a contemporary interpretation for the modern design world.
Rug number 28353
Size: 9' 2" x 11' 8"
Design Reference Alwarda
Collection Atlas
Material Wool
Texture Pile weave, shag
Origin: India
Age Type: New
Price $85
Shipping in the US, ask the creator about international shipping.
$80 per square foot. We offer a trade discount to members of the design community.
Returns accepted within 14 days
See details
Item
Alwarda, Atlas Collection by Mehraban
Have more questions about this item?