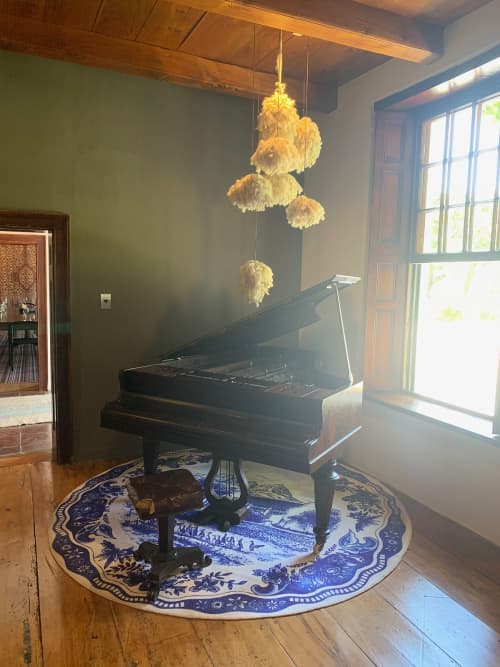 +4

Inquire about Comissioning a Custom piece
Customised Delft plate inspired illustration created for a carpet for The Tasting Room at Vergenoegd Low Wine Farm outside Stellenbosch in Cape Town, South Africa.
The brief was to create a unique Cape Dutch style plate illustration inspired by the landscape and traditions of Vergenoegd Wine Farm.
The illustration incorporates the original Vergenoegd Cape Dutch homestead and it's infamous Indian Runner Ducks who help keep the farm pesticide and pest free, which is also represented by the snail who indicates a healthy farm, the grape vines of course which are used to make their famous wines, the local Robin Chat who represents a fertile farm, and all the beautiful indigenous and local blooms found in and around the farm such as the Protea, Bladder Hibiscus, Arum Lily, Aandblom, Moraea, Angustifolia, Marguerite, Oxalis, Peacock flower, Sour Fig, Romulea Hirsuta amongst others...
The design is based on a typical Dutch blue and white porcelain plate similar to the ceramic shards which have been found all over Vergenoegd farm for years. Ceramic wares came to the Cape on Dutch ships from China via the Dutch East India Company due to the establishment of a refreshment station at the Cape of Good Hope by Jan van Riebeeck in 1652, and shards of Chinese, Japanese and later European blue and white antique wares can be found all over the Western Cape and around South Africa.
Have more questions about this item?