+1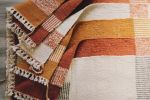 Farzana in Terracotta - Rugs
1 People have this item in their cart right now.
This 100% wool, flat-woven rug is one of our more minimal designs as it focuses on the beauty of the two different weave structures. We wanted to play with texture and a fresh new color way on these doorways rugs. The stripes on both ends of the rug mimic a braiding style. The two different textures of this rug, as well as its versatile size, will be sure to make a statement in any spot that you pick!
Check out multiple colors of this same design by searching our Farzana collection!
Made with fine quality, long staple Ghazni wool, this rug uses the flat-woven technique resulting in a beautiful pattern that gives our rugs an added visual texture. Each rug yields a luxurious hand, comfortable to walk and sit on.
Color: Natural Ivory & Terracotta
Size: 2ft x 3ft
Rug Style: Flat-woven
Pile height: Low pile
Material & Technique: Hand-spun, Ghazni wool used for weft and warp yarns. Interlock method between colors is achieved by the dovetail and slit-weave methods.
Rug pad recommended.
Expect variations: As each rug is hand constructed from natural wool, expect slight variations with approximate carpet sizes. Though some colors and designs may vary slightly in our rugs, we try to do our best to represent the authenticity of our rugs.
Free Shipping in the US, ask the creator about international shipping.
Have more questions about this item?