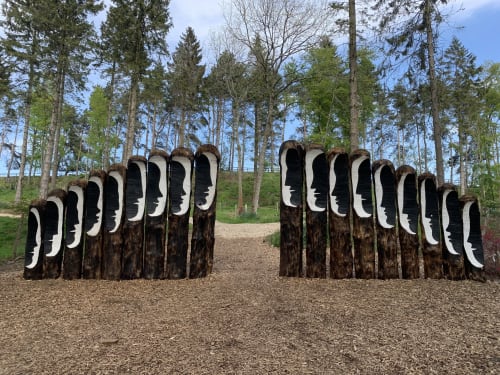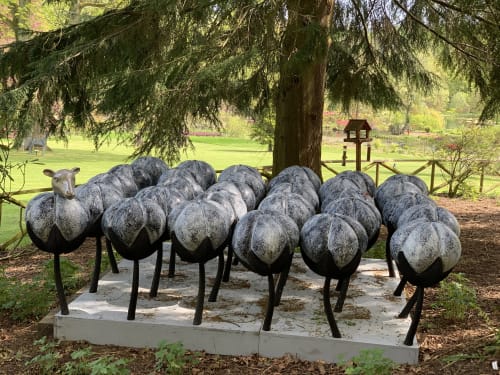 Context & Credits
Item
The Himalayan Garden & Sculpture Park
As seen in
North Yorkshire
, England, United Kingdom

+9

The Himalayan Garden & Sculpture Park
Item Details
DIALOGS:
We live in times of terrorism and telecommunication.
Never in the history of human civilization, telecommunication, was so advanced and accessible to all. However, inspite of such technological development, we do not seem to 'communicate'.
Terrorism is a product of non-communication between nations, groups, regions, religions and ideologies.
'Dialogs' emphasizes the need to wane away from 'monologues' and establish 'dialogues'.
THE OCEANIC:
Oceans of the world have played an important role in shaping human civilization. Yorkshire has had her own encounters with the Vikings who crossed the North Sea to find the English shores. Hundreds of words in English language as well as names of places have Scandinavian origin.
'The Oceanic' celebrates the ocean as a medium of cultural diffusions.
PINEAPPLE DISC:
A disc created using pinecones on one side and coconut husks on the other.
The idea is using materials from the east and the west, which makes the disc a symbol
of a global dialogue.
The word pinecone has an interesting etymology.
Before 'Ananas' arrived from South America on European shores, pinecones were called 'Pineapples'.
'Ananas' took over the name Pineapple and new term pinecone was coined.
LATERITE STONE HEAD:
This head is created out of laterite stone from India.
Laterite is a metamorphic stone. Granites, Basalts, Sand-stones, Schists convert into Laterite over millions of years when water sips through them depositing Iron and Alluminium oxides.
The stone is in a constant process of metamorphosis.
An English Geologist Francis Buchanan-Hamilton first described and named Laterite in Southern India in 1807.
THE COTTON FIELD:
Cotton originated in India.
Europe imported cotton from India for centuries. In 1350, the Englishman John Mandeville, wrote a book called The Travels, which created a stir. He wrote about a tree in India that grew wool.
There grows in India a wonderful tree which bears tiny lambs on the end of its branches. These branches are so pliable that they bend down to allow the lambs to feed when they are hungry.
The idea of a 'tree which grows wool' has been incorporated into several European languages.
In English 'cotton' is 'cotton wool' and in German Baumwolle (Baum = tree, Wolle = wool).
Cotton was exported to Europe from India. However, the technique of knitting was brought here by the Portuguese.
I have covered my cotton pods with patterns of crochet (a Portuguese knitting style). One of the cotton pods is fitted with a lamb head!