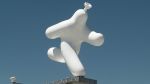 Balloon Man Running - Public Sculptures
Featured In Central Park Station, Denver, CO
This is a 12-foot tall sculpture of a balloon-like humanoid that look's like he's running.
"The figure of a balloon man running is a fresh representation of "anyman" and can be easily visually resolved by viewers of any age. Its content is humorous and thoughtful,".
Have more questions about this item?