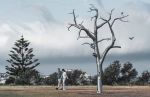 +5

'2030' - Metal tree sculpture - Public Sculptures
"A sight that will soon be all too familiar: a looming skeleton of this once great life giver, now destroyed by the lives it had given. By 2030, the threat of climate change to ecosystems and the bioclimatic limit of trees will be irreversible."
As exhibited at Sculpture By The Sea Bondi 2019 & Cottesloe 2020 where it was the winning work for the WA Sculptor Scholarship Cott 2020 won by Sam Hopkins. 2030 is now in a Private Collection.
Dimensions: 350cm L x 420cm W x 610cm H
Aluminium
2019
Have more questions about this item?