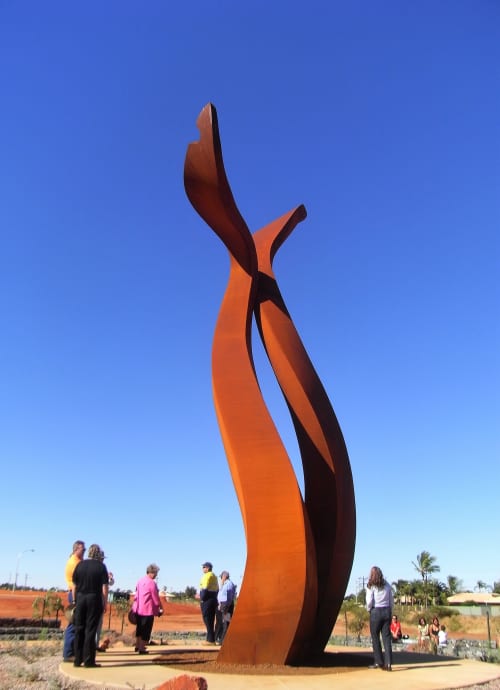 Context & Credits
As seen in
Demarchi Road
, South Hedland, Australia
Creator not accepting inquiries
Item Details
On March 8, 2007, Cyclone George whipped itself into a furious, high-end category 4 cyclone, and touched the ground at Port Hedland in Western Australia, causing destruction to South Hedland and several isolated mining camps around the town. As the most powerful cyclone to hit Port Hedland since Cyclone Joan in 1975, Cyclone George resulted in the tragic death of three people, injuries to dozens more and millions of dollars worth of damage to Port Hedland and the surrounding areas.
Representing Fortescue Metal Groups Ltd, one of the camps affected by the cyclone, Andrew Forrest commissioned local artist and sculptor Ron Gomboc to design a sculpture to be erected in De Marchi Park, South Hedland, to commemorate the loss of life of two Fortescue employees during the devastation of the cyclone.
The 12-meter-high sculpture was constructed over a period of 25 months "from design to dedication".
It is made from two enormous hunks of Cor-ten steel that have been manipulated so that they twist
and stretch gracefully heavenwards, expressing two concepts: "an organic shape to show new growth –
and it has a twisted sense because, after a cyclone, nothing is straight anymore".