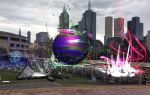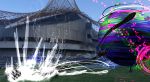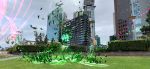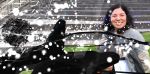 +3

'Unity AR' Augmented Reality Public Installation with integrated music - Public Sculptures
Featured In Southbank, Australia
'UNITY' hovers invisibly above the Arts Centre Melbourne lawn infront of the National Arts Gallery: An audacious, building-sized Augmented Reality (AR) public art installation. Smart phone access only into this wild, experimental fusion of reality, intense glowing art by Richard Payne and electronic music by Probir Dutt messing with your brain.
Accessible via the AuraVista AR app by Taylors, you're free to walk through the 22-metre artwork metaphorically using the primaries of light; Red, Green, Blue, Black & White as symbolic of all things.
The initial mind bend of being 'inside' virtual public artwork challenges our perceptions of what is reality with a new experience; a synthesis of vision and sound unapologetically created to evoke emotions of elation and beauty celebrating the uniqueness of the individual whilst realising a vision of unified diversity of all kinds: things, people, cultures and philosophies. The central sphere represents Unity… Have the courage to step inside.
Payne's art practice was traditional oil paints until two years ago when Taylors, an innovative tech company, offered him the opportunity to experience VR for the first time. He was instantly hooked by the ability to immerse the viewer inside the artistic expression.
Unity was created for the Melbourne Fringe Festival with composer Probir Dutt adding a further emotional dimension through his electronic music. "Creatively it was an exciting challenge when Richard asked me to express the primary colours musically. Then he asked: what would they sound like if they were mixed together?"
When asked about his motivation in creating Unity, Payne said; "I'm perplexed by the human quest for genocide of the 'other' so I wanted to create a work that says the other is beautiful also and with mutual allowance a unified humanity could ascend." "I also kind of like that Unity was created through the collaboration of three different disciplines"
Remember to post an awesome selfie from your favourite colour and take a headset.
Item
'Unity AR' Augmented Reality Public Installation with integrated music
As seen in
100 St Kilda Rd
, Southbank, Australia
Have more questions about this item?