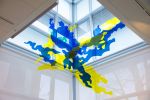 +8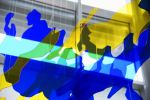 "Forming Light" Sculpture
Starts at US$20,000
Pricing for installations varies based on scale and complexity. Project fee includes design, materials, fabrication, and installation.
One of a Kind item
Inquire about Comissioning a Custom piece
Item Details
For this public sculpture, Nicole Mueller activated a two-story glass tower, a prominent architectural feature of the space, with a hanging site-specific installation made of colored laser cut pieces of acrylic suspended from the ceiling. This modern abstract sculpture installed in this space is a nonregular shape sculpture in blue and yellow glass acrylic.
She reinterprets the medium of stained glass with materials such as cut dura-lar and acrylic in suspended, organic shapes that reference natural phenomena like storms and hurricanes, or the more benign dappled light that filters through the trees into the building on a daily basis.
As colored light filters through to cast abstract shapes on the floor and walls, Mueller aims to give physical form to the abstract sensation of light, merge the tangible and intangible, and provide pathways for moving through liminal states that remain in constant flux.