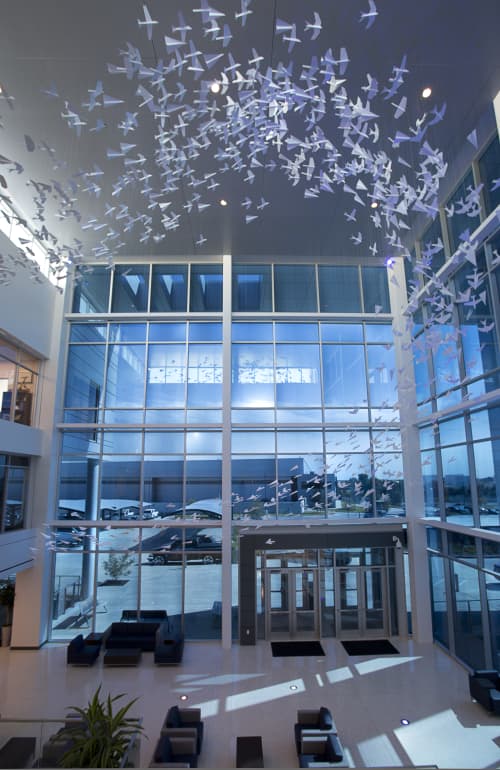 Image credit: Ralph Lauer Photography



Collective Transitions - Public Sculptures
Featured In Fort Worth Meacham International Airport, Fort Worth, TX
"Recognizing that this facility will be used primarily for aviation related offices and classrooms rather than as the main passenger terminal, I began to consider the various functions that will occur within the building and their relationships to one another. "Paperwork" is a term synonymous with both office and school environments and images of workers seated at desks behind stack of papers or school children throwing their year's assignments into the air on the last day of school immediately started drifting through my mind. At the same time, I found myself drawn to the three-story open space in the main entry lobby, which serendipitously presented itself as the perfect place to fly a paper airplane.
Paper airplanes have long provided a playful means to initiate human interaction and as objects have the potential to explicitly or implicitly carry with them the thoughts, attitudes and ideas of their creators. Recognizing the potential to tap into this dynamic and enhance the social connectivity within the space, I envisioned hundreds of folded shapes soaring through the lobby.
Lightheartedly emphasizing the sociability of public environments and how we collectively impact, and are in turn impacted by them, the whimsical formation's implied transformation, from natural birdlike shapes to classically, hand-folded paper planes to traditional aeronautic prototypes, is an expression of the fluidity and rhythms of conversation. Visibly prominent from the adjacent highway, the entire installation is subtly animated by means of a programmed LED lighting system."
Item
Collective Transitions
Have more questions about this item?