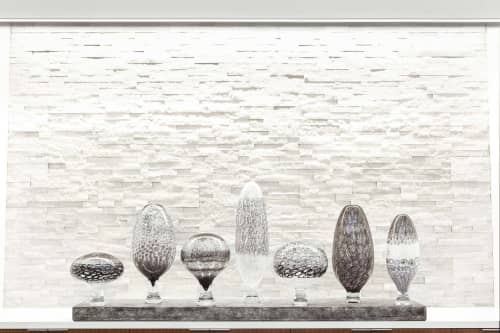 Image credit: Jordan Trimas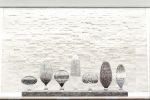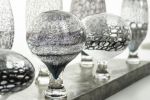 +4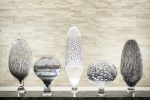 Minimalist Grouping III - Public Sculptures
Featured In California Wellness Foundation, Los Angeles, CA
Installation at the California Wellness Foundation
Kazuki Takizawa
Minimalist Grouping III, 2020
Glass, Concrete, 27"x72"x15"
Kazuki Takizawa is a Japanese glass artist based in Los Angeles. As an artist who lives with bipolar disorder, Takizawa elucidates human emotions in the shimmering, and fragile form of glass. Passion, turmoil self-expression, and mental health are the driving forces behind his approach to sculpture.
Inspired by Minimalists gurus Millburn and Nicodemus, Takizawa's vessels explore the link between two ideologies; chaos and minimalism. This series was created using both traditional Italian glass techniques, and unorthodox glass color patterning. These methods create many layers of dense, complex and chaotic patterns that are ultimately realized through a simple and direct form. These works are restricted to a dichromatic color palette of black and white as a representation of the rigid choices one must make in order to attain a minimal lifestyle.
Bipolar disorder, also known as manic depression is a mental illness that brings severe high and low moods and changes in sleep, energy, thinking, and behavior.
Have more questions about this item?