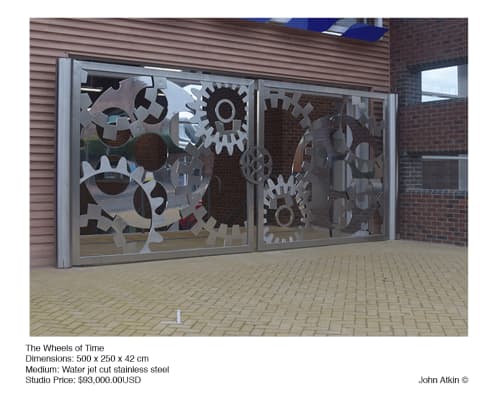 Wheels of Time - Public Sculptures
Featured In Stourport, UK, Stourport-on-Severn, United Kingdom
The commission initially started out as a design request for an object-based sculpture, but after completing Schools Workshops and other Community Consultation we decided that a utilitarian artwork, in the form of bespoke gates would be more appropriate for the site, tailored to the locale of Stourport on Severn in the West Midlands.
The redeveloped retail site was formerly a carpet factory, where the production of carpets dated back several generations. The industrial inventory of cogs, levers and pulleys associated with the production of carpets, as well as other pieces of equipment became the focus of my research alongside research into the canal history of the locale.
Stourport is renowned for its canal heritage, which stimulated commerce throughout the UK and overseas. The concept of canals, and in particular "lock gates" prompted the idea of (dry-land) gates. The canal systems have recently been restored to their former Georgian splendor, creating an exciting heritage destination point for visitors to Stourport on Severn. This history is also significant to the research that fostered the development of my gateway sculpture, "The Wheels of Time".
My use of 316-grade stainless steel involved an inventive use of polishing directions onto the metal surfaces of the gates in order to produce distinctive shades of steel: affected by the way daylight resonated with the surface of the polished grain of the stainless steel surfaces.
This technique deliberately created an amplified change of levels within the composition of the sculpture: making one design element of the gates appear at different levels to one-another. The mirror-polished stainless steel reflects the colours and vibrancy of pedestrian traffic, shimmering like reflections in the waters of the canals.
The technical requirements for the project were meticulously calibrated by a Structural Engineer, whereby two thrust bearings facilitate ease of operation of the 3-ton gates; via stainless steel cylinders that contain carefully calibrated thrust bearings. The opening of the gates has clear parallels to the canal Lock systems that govern the flow of water through canal gates.
This project utilized digital and traditional methods of best practice. Hand wrought drawings formed part of my early research relating to the industrial histories of the site. The rich vein of industrial archeology that is still evident in the functioning of the canal, together with the industrial salvage from the carpet factory, allowed me to design gears, levers, and pulleys into a composition that was eventually realised in water jet cut stainless steel sections.
Have more questions about this item?