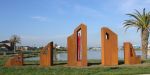 +1

Segmented Landscape - Public Sculptures
Featured In Lakeside Pakenham Lake, Pakenham, Australia
This sculpture draws on ideas of landscape, architecture, ancestry and identity.
Each segment represents a continent and serves as a metaphor for a community and nation of diverse ancestry. The fall line of the segments suggests an undulating mountain-scape whilst the geometry references the architecture of a cityscape. As cultures merge, the segmented landscape is unified.
Have more questions about this item?