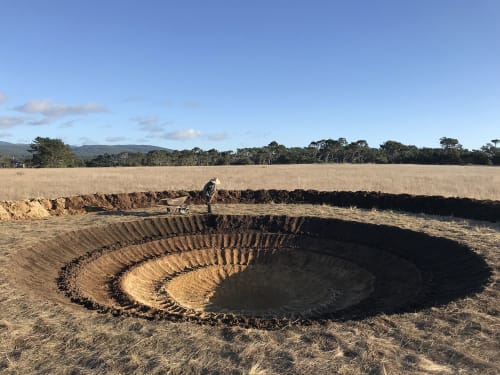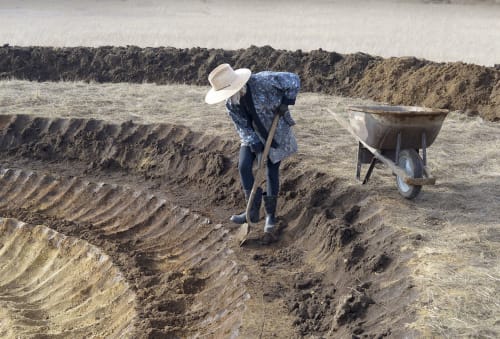 Context & Credits
Item
Anna Jemila Victoria MacEwan


Anna Jemila Victoria MacEwan
Item Details
Human Meteorite
2017
Land-art endurance performance
Dimensions Outer ring: diameter 70', height 2.5', width 3.5'. Crater: diameter 42', depth 6'
Human Meteorite is a project about extinction and creation.
In November 2017, MacEwan dug an impact crater into the earth using only hand-tools, every day, for the duration of one lunar cycle. MacEwan gave live transmissions each morning as the Human Meteorite, via social media to a globally scattered audience, from their remote location in California. These intimate transmissions contained reflections on the physical, emotional and spiritual experiences of the Human Meteorite, and provided a window into the performance as it progressed.
"In considering how the impact of a real meteor is a force that transforms the surface of the earth instantly, I imagine myself as having the same potential energy only stretched out over a longer timeframe. Working routinely and gradually by hand, I will create the same outcome as the sudden violent act of a celestial meteor impact - reframing the catastrophe as a slow action. This work invokes the meteor collision as an allegory for our collective primal fear of extinction and accepts humans as the perpetrators of the gradual destruction that brings us closer to that end. " - Human Meteorite.