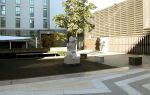 +2

Homo Ludens - Public Sculptures
Featured In Union scene, Drammen, Norway
Entrance hall decoration at Union Scene, Drammen
The sculpture at Union Scene in Drammen depicts a Lego figure carving himself out of a boulder with a hammer and a chisel.
Here, it primarily refers to how man forms the culture and how culture helps to shape us as human beings. Homo ludens is a Latin term meaning the playful man.
The term has been used in several contexts, but mostly when adults "play" in one form or another: in unpretentious sports, through games and the arts.
The sculpture is carved in light yellow granite and is 190 cm high with abase.
Have more questions about this item?