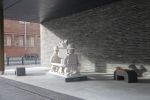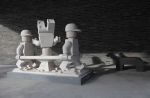 +4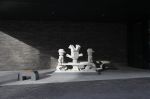 "Indescribably Close" - Public Sculptures
Featured In Øya helsehus, Trondheim, Norway
Art project for Trondheim Health Guard 2018
The art project is adapted to the health care emergency department.
. "An art project here will mark the entrance, be a welcome to all arriving
... and likely to give a little smile to the people in a vulnerable situation."
It was the wish of committee that I used idiom from Lego figure
(Lego building blocks) in a way I have done in the past. During the development of the ideas I built various models and drafts with traditional Lego bricks until I ended up with the sculptures "indescribably close" and "Doctor universalis"
"indescribably close" refers to an expression that I remember from my own upbringing.
"Helt på håret" describes what was a "hair break from" the disaster.
Something or someone who manages with small margins.
It refers to something that was very close to happening.
At the same time "Helt på håret" is a play with words inspired by the situation the sculpture depicts
- a hero who has landed on his head.
One can also regard the sculpture as a tribute to all the anonymous heroes who work in the health care system and those who work in the field as ambulance personnel. Here they appear as a traditional sculpture on the pedestal but as senseless figures who, in addition to referring to the health care worker, also refer to the abstract geometry and the Lego figure as we know it from the Lego toy. The sculpture is inclined to the building to reinforce the impression of moving figures, as if frozen for a moment on their way to the emergency room and placed on the pedestal there and then.
The sculpture is made of yellow and dark gray granite. The sculpture includes two benches
made of dark gray granite and oak. The benches are also inspired by Lego bricks and
help to activate the bounded area where the sculpture is placed ..
Have more questions about this item?