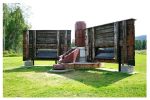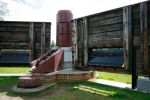 +4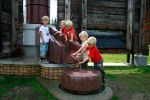 Bandak lock sculpture - Public Sculptures
Featured In Lunde, Telemark, Norway
The fountain, play sculpture and monument over the Telemark Canal. The sculpture was completed in 2009 and consists of Stone (Granite), wood (old sluice gates), bricks, and bronze elements.
The sculpture also serves as a "partition" and living wall in Lunde sluice park and becomes part of the framing of Lunde sluice park's historic area. The centered pillar of the sculpture has two inscriptions that are poorly visible in the stone, this is the stonemason's lament, texts written by the worker on the Telemark canal Sveinung Lunde in 1906
Have more questions about this item?