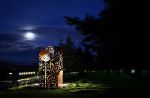 +7

Between Heaven and Earth - Public Sculptures
Featured In Jønsberg Upper Secondary School, Stange, Norway
Art project for Jønsberg high school 2013
Material: Corten steel, steel and bronze.
In conjunction with the Jønsberg high school being given a new large workshop hall, money was allocated for an art project in the school's area.
Jønsberg vgs. school has an educational program within; nature, technology and industrial production. The school is the country's oldest agricultural school and was established in 1847. The school runs a large and versatile farm and also has workshops for wood and metal. The school is a carrier of much old culture and tradition, while at the same time constantly changing.
Key words for the decoration were: "Tradition - innovation - knowledge - development - sustainability - green way into the future - reuse and growth. There was a strong wish that art could become a rallying point, eye catching and a visual characteristic of the school.
After surveying the school grounds, it was mentioned an old bronze bell that had previously belonged to a farm building on the farm. The building no longer exists but the clock had been taken care of even though it was in poor condition, it had long been a desire to have the clock restored and given it a new place. This gave the idea of ​​a sculpture with the function of "casting" bell tower.
Description of idea
The sculpture itself consists of two large rolled corten steel plates of 15mm thickness and four meters height. The plates have water-cut motifs that are partly taken from the plant ornaments of the local peasant culture and partly are drawings of insects that moves in these ornaments. The motifs, together with the rough and industrially manufactured material, should give a reference to the connection between modern industrial agriculture and traditional peasant culture and history. The sculpture will also create an awareness of agriculture's dependence on the natural cycle and the impact of animals on nature.
The proportions of the steel plates are divided according to the golden section and are reflections of each other. Taken together, they form a standing cylinder - a silo shape.
The bell has a stainless steel stand placed in the center of the sculpture, and the floor is covered with granite stones. The stones are in a given pattern with hexagon as a starting point, this helps to draw the foundation of the sculptural cylindrical shape. The pattern in the stone symbolizes the passage of time and consists of a twelve-pointed star representing the twelve months of the year.
Have more questions about this item?