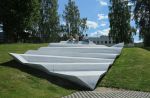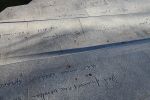 +4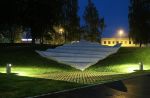 Before the era of rivers - Public Sculptures
Featured In Hønefoss high school, Hønefoss, Norway
Background for idea:
An amphitheater is basically about the dissemination of language and culture in different forms and at different levels. It was this thought that led me to invite Author Øivind Hånes to a collaboration on the design of the amphitheater.
How can a written poem on an "A4 sheet" turn into an Amphi?
By curling and folding sheets in various ways, you quickly arrive at an "accordion" formation that can be excellent used as an amphitheater
By folding the sheet diagonally and placing it in the sloping terrain of the school, the shape becomes more dynamic and interesting as a sculpture.
The amphitheater become more organic with soft rounding and undulating profiles. By folding an irregular shape with steps of different depths and the ledges, the "grandstand" appears more sculptural, consisting of only different surfaces. The various steps will offer a more playful and interesting way to sit.
The undulating shape and location of the "amphi sculpture" can be reminiscent of water flowing into the terrain. This gives the amphi sculpture a relation to the geographical origin of the town of Hønefoss - sited in the meeting between two rivers, Bengna and the Randselven. The sculpture may appear as a dry river bed, sanded by water. Therefore the title: "Before the time of the rivers" which is otherwise the title of a poem by Hånes.
The poem is carved out of the stone as if it was written by hand on a large sheet, the words are broken by the undulating movement and one has to move on the sculpture to see the context and content of the poem. At a distance, the words will appear as ornaments on the large bright surface. The text is emphasized by being hand-carved in relief, the words are slightly higher than the surface of the stone itself, the surface is spiked and sanded to a nice rough surface while the words are polished. This means that the poem will be clearly darker than the rest of the stone when the stone is dry, while when the stone gets wet the words are almost completely erased.
The sculpture consists of 38 granite stones.
Have more questions about this item?