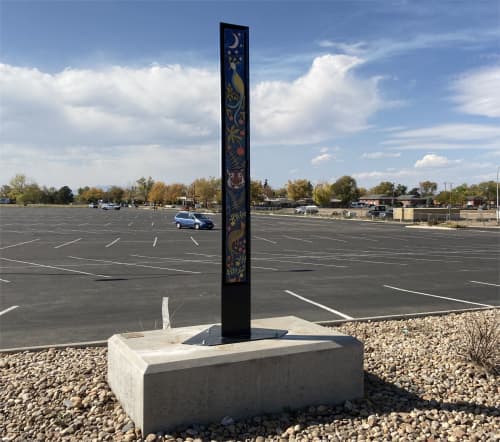 Image credit: Gregory Fields


+4

Inquire about Comissioning a Custom piece
Carved in glazed ceramic relief, this triangular pillar sculpture recalls the parable of the Two Birds from ancient India. The lower bird eats the sweet and bitter fruits of life, in constant fear of the tiger of desire. The upper bird sits serene and majestic, free from desire and immersed in his own glory. Through life's experiences and upon gaining wisdom, the lower bird realizes his real nature is that of the upper bird.
Glazed ceramic, mortared and grouted to 1/2″ cement backer board attached to a 1/4″ thick powder-coated steel frame. The piece is 84 x 8.75 x 4.5 inches. The base is 1/4″ steel plate, 31.5″ x 21.5″, suitable for bolting or welding to an appropriate foundation. The piece will also stand solidly without attachment to a foundation.
This piece was on display outside the City Hall in Happy Valley, Oregon from 2018-19. It will be on display from April 2020-April 2021 in Lafayette, Colorado as part of the city's Art on the Streets program.
Have more questions about this item?