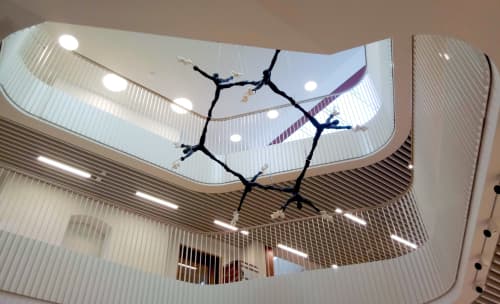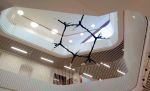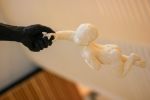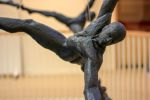 +3

Barton's Chair - Public Sculptures
Featured In Tonbridge School, Tonbridge, United Kingdom
Barton's Chair is a large specially commissioned sculpture hanging in the central atrium in the heart of the new Barton Science Centre of Tonbridge School. It is based on the chair conformation of cyclohexane – a molecule formed by a ring of six carbon atoms.
Barton's chair isomer
Both the sculpture and the Science Centre are named after Old Tonbridgian Sir Derek Barton (MH 1932-5). In 1969 he shared the Nobel prize for Chemistry with Norwegian Odd Hassel for the 'development of the concept of conformation and its application in Chemistry'. In other words, he discovered that carbon rings could either exist as a chair shape or a boat shape.
The sculpture is 8 billion times life-size and combines a scientific model of a molecular structure with a human call for connection and cooperation. Each carbon atom is represented by an adult figure coloured black, and each hydrogen atom by an infant coloured white. The colours reflect the CPK colour convention used in Chemistry. The arms and legs of the figures represent the covalent bonds that hold the molecule together; carbon usually forms four bonds, but hydrogen only one. The adult carbons are holding the hydrogen infants by the hand – an intimate analogy of connection and nurture. In the words of the novelist and Old Tonbridgian E.M. Forster: "Only Connect."
Have more questions about this item?