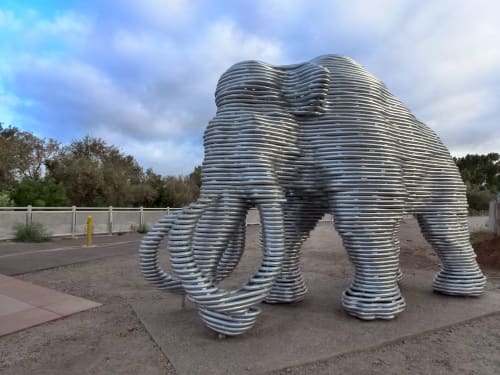 "Lupe" - Public Sculptures
Featured In Lupe the Mammoth at Guadalupe River Trail, San Jose, CA
The "Lupe" sculpture is comprised of 78 layers of bent steel pipe, stacked and welded to form a 1:1 scale adult Columbian Mammoth. The Artwork was commissioned by the San Jose Public Art Program and the Trail Program, in 2010 and is sited at the Lower Guadalupe Trial in San Jose, CA.
In July 2005, a San Jose resident took a walk with his dog along the flood channel of the Guadalupe River, just north of the San Jose Airport. It was here, at the site where the sculpture stands, that the skeleton and tusks of a mammoth, were discovered, among the eroding banks of the river. The sculpture was inspired by this discovery, and serves as an entry way to the trail and a reminder that these "beasts" once roamed the Santa Clara valley.
The artists chose to stack bent steel pipe into a topographical animal form suggestive of geological stratum that the Mammoth was buried in.
Have more questions about this item?