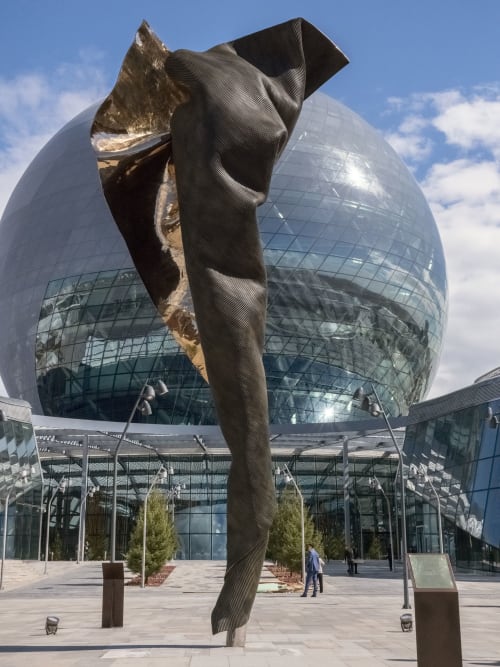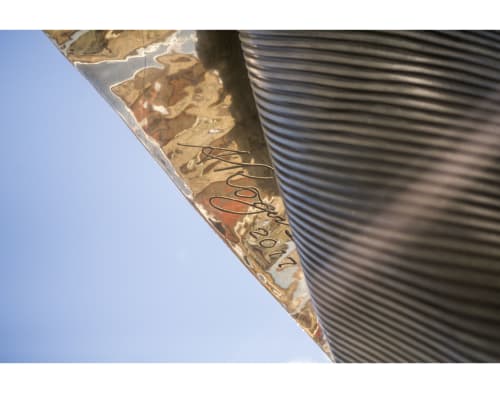 Context & Credits
As seen in
Prospekt Mangilik Yel.
, Nur-Sultan, Kazakhstan


+1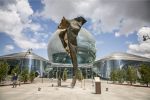 Item Details
Andrew Rogers' largest bronze and stainless steel sculpture to date is Unfurling Energy, 2017.
Standing over 34 feet / 10 meters high, the permanent public installation in Astana, Kazakhstan
was created on the occasion of and will be unveiled at the opening of Expo 2017, Future Energy.
Created over the span of a year, the work consists of 18 separate sections that have been
seamlessly welded together. Its patinated outer ribbed surface contrasts with the highly polished
bronze internal surface.
The work extends Rogers' ongoing sculptural series of bronze and
stainless steel works. Significant pieces are located in prominent public and private collections
around the world, including We Are, 2017, an installation of eight sculptures presented as a
collateral exhibition to the 57th Venice Biennale, on view through November 26, 2017 at Palazzo
Mora in Venice, Italy.
Rogers' design was selected by the organizing body for its dramatic flowing form, inspired in part
by wind energy.
Reflecting the challenges of the local climate, the sculpture was designed to
withstand conditions of high wind, snow and ice loads, and extreme temperatures ranging from
30° Celsius (86° Fahrenheit) down to ‐20° Celsius (‐4° Fahrenheit). Its construction presented an
engineering challenge, as the 6.5 ton weight of the form is supported only by a narrow, 30cm
diameter stainless steel rod. This required a careful attention to weld depth, quality of metal and
craftsmanship.
Production was closely supervised by the same firm of engineers who supervised
the reconstruction of the World Trade Centre in New York: Leslie E Robertson Associates.
Capturing the artist's vision for a fluid organic form in a way that belies its tremendous size and
strength, the work ripples and pulsates, with a ribbed and undulating outer surfaces acting as a
counterpoint to the delicate, highly polished interior. One of the challenges presented by such
large‐scale works is to consider foreshortening, so that the sculpture has proper proportions when
it is viewed from the ground – in this case the affect appears effortless. Rogers' practice explores
human emotion through the light, organic forms that define his sculptural works, often functioning as a metaphor for the role of the individual within a community.
This sculpture can be commissioned at any size.