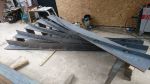 +2

Bloom - Public Sculptures
Featured In Normanton, United Kingdom
Following a well received previous artwork in 2014, Adrian was again commissioned by Wakefield & District Housing Ltd to create a sculpture to act as a focal point for a newly regenerated housing estate, this time seven miles away at the Smirthwaite Estate in Normanton.
In consultation with the local residents and Groundwork Wakefield, Adrian developed designs to symbolise the new start for the area, drawing inspiration from the hard-edge architecture of the estate and combining it with dynamic natural forms from the nearby green areas.
This was the first commission fabricated in the new sculpture studio Adrian self-built in 2016-17 behind his house in Manchester.
Site: Smirthwaite Estate, Wakefield Road, Normanton, West Yorkshire WF6 1AG.
Dimensions: 3.5 x 0.67 x 1.4 m (h x w x d)
Materials: Welded, galvanized, treated & lacquered mild steel
Fabrication & Installation: Adrian Moakes & WGC Landscapes
Management: Groundwork Wakefield
Funding: Wakefield & District Housing Ltd
Have more questions about this item?