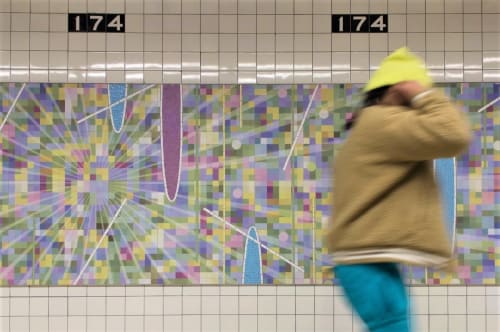 Image credit: Photographer Gina Fuentes Walker
Bronx Seasons Everchanging
Installation Date: December 2018
Medium: Printed/Glazed/Kiln-Fired Porcelain Tiles and Smalti Mosaic Tiles
Dimensions: 46" x 320" each (8 murals)
Commissioning Agency: New York City Metropolitan Transit Authority (MTA)
Fabricators: Miotto Mosaic Art Studios, Inc. (USA) & Travisanutto Mosaics (Italy)
Location: NYC Subway Station B/D Line 174-75th Street
Description: This eight, mural commission, "Bronx Seasons Everchanging", is based on my experiences during mindfulness, walking meditation connecting with nature in a dense, urban environment. I often practice this discipline, walking aimlessly and experiencing consciousness on a more expansive level. In doing so, I disconnect from modern living complexity and frenetic, city energy to instead spatially commune with the pervading and everchanging beauty of the seasons. It is here I find order and healing expansion. And dynamic moments of nature infusing and surrounding city clamor. It is here I found inspiration for "Bronx Seasons Everchanging".
In NYC, I "ride the subway rails" almost daily. Mine is the B/D subway line and I frequently use the commission location site (174th-175th Street Subway Station). I knew well the layout, surrounding environment, interplays, psychological impacts in terms of personal usage, and how public art could have greatly improved this location. Many times, on those platforms, I conjectured just how much a fresh infusion of color and nature, executed as tile murals in a contemporary context, could positively affect user experience and location improvement.
I am a 21st Century Modernist. My language is one of geometry, line, the rich, complex interplay of color, and the dynamic balance between simplicity and complexity. And although my expression is ultra-contemporary and "clean", my homage is first to emotional feeling, and to beauty. And often nature. This mural series began by building very complex compositions (expressing seasonal periods) from a wide array of color blocks (resembling pixilation). Designs were created with graphic design programs and I created color connections between murals through "color shifting". Compositional arrangements created a visual scintillation and made the viewer's eye "dance". Although these backgrounds were compositionally complete, I then built off those grounds, as background landscapes, adding upward, design layers that integrate with, and play off, the lower layers of composition for full statement expression. Of eight, nature transition, mural designs, final works titles were: 1) Of Winter, 2) Winter Always Turns to Spring, 3) Early Spring Rains, 4) Spring Arisen, 5) Spring into Summer Mandala, 6) Verdant is Summer, 7) Early Fall Chill, and 8) Falling is Autumn. My hope was to bring the beauty, inspiration, strength, positive impact, and the renewal of nature to station platforms and MTA riders through these works.
Each mural design was comprised of many colors, and, in this case, traditional mosaic medium could simply not provide me with the subtle nuances of tints and shades in my mural designs. I also had concerns of audience views being directly in front of these murals, and as far away as across the platforms. I wanted to avoid the optical mixing used in traditional, mosaic techniques. Instead, I sought a clean and crisp visual appearance, one rife with dynamic color. Much of my work has to do with connections between the past, present, and future. In keeping with that, the ultra-contemporary look of these murals, and my embracement of technology, I instead selected to use a novel, hybrid medium. All mural, color block backgrounds were laserjet printed on porcelain tiles, glazed, and kiln fired. Some upper layer designs were printed as well, but the majority of upward layer, design element areas were instead robotically, waterjet cut out from the printed/glazed/fired porcelain tiles. The murals were then completed by having all cut out area cavities traditionally hand-filled with smalti, mosaic tiles by mosaic artisans. Although complex in execution, and requiring many, design files with precision, process steps, this hybrid medium was incredibly successful. The murals are rich in both color variation and nuance, maintaining the durability of traditional mosaics while in an ultra-contemporary look indicative of my art style.
Have more questions about this item?