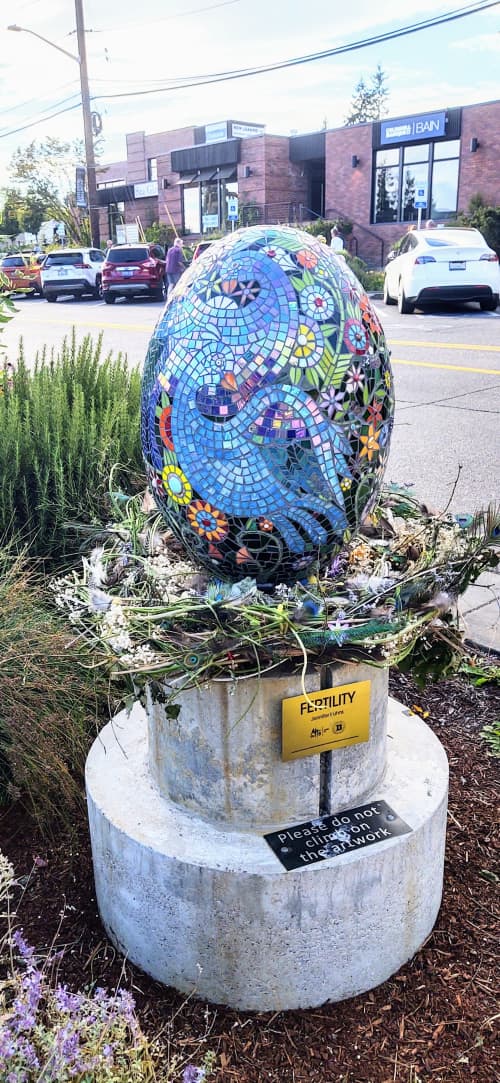 Image credit: Tony Overman, photo credit for 6th image, Jill Carter for 3rd image


+5

Fertility - Egg Sculpture
Custom Options Available.
Ask The Creator
For Customization.
This is an egg-shaped sculptural artwork covered in mosaic made of stained glass with some beads, tiles, and findings. It is 24" tall by about 18" wide and weighs about 40 lbs. It's hollow inside and the inner shell is made of terra cotta. It should not be kept permanently in an outdoor location prone to freeze-thaw cycles. It would be ideal to site this in a lobby or covered outdoor area. The design features a pair of peacocks on one side and a tree-of-life on the other, with flowers filling in the rest, along with some bees, butterflies and dragonflies. The theme is fertility and abundance, from the egg shape to the symbols covering it. *This sculpture was selected for exhibition in Bainbridge Island, WA until summer 2022 and will actually be for sale through Arts & Humanities Bainbridge. If you are interested, send your inquiry and I will help facilitate the connection.
Have more questions about this item?