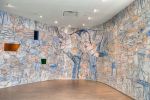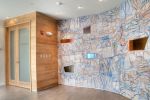 Erlanger Non-Denomintional Chapel Mosaic - Public Mosaics
Featured In Erlanger Hospital, Chattanooga, TN
Hand-made tile, smalti / 9 x 40 feet / Erlanger Hospital Tennessee,
My son, Timur, and I created Erlanger Non-Denominational Chapel mosaic together with Craig Kronenberg (HK Architects) and his team. Abstracted birds and nest represent care, shelter and spirit. The ornamental markings reference ancient scripts. We handmade the tiles on the campus of Baylor School. Awarded "Ten Best Mosaics" by the Society of American Mosaic Artists 2016.
Item
Erlanger Non-Denomintional Chapel Mosaic
Have more questions about this item?