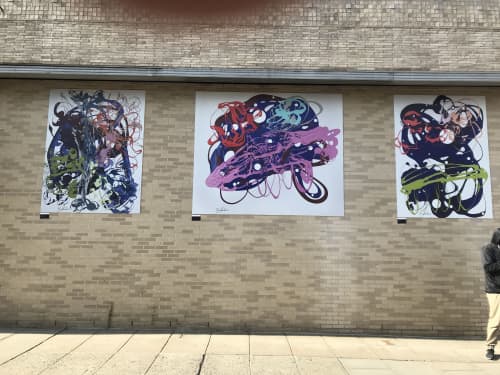 "Star Power," "SOAR," & "OVER IT" Public Art Installation at Newark Penn Station
Featured In Newark Penn Station, Newark, NJ
Price from $5,000 to $30,000$5,000-$30,000
3 Paintings enlarged ("Star Power," "SOAR," & "OVER IT") and displayed on the exterior of Newark Pennsylvania Station as a part of the "TRANSITIONAL ART" program commissioned by NJTransit and New Jersey State Council on the Arts. This entire installation is 9ft high by 20 ft wide. All items are in perfect condition and can be reinstalled at client's preferred location.
Article: https://hudsonreporter.com/2019/10/22/inaugural-art-project-at-newark-penn-station-initiated-by-nj-transit-and-njsca/
Video: https://vimeo.com/369037463
Pricing is contingent on manufacturing, printing, and all transportation and installation cost. Please inquire for details and negotiations
Item
"Star Power," "SOAR," & "OVER IT" Public Art Installation at Newark Penn Station
Have more questions about this item?