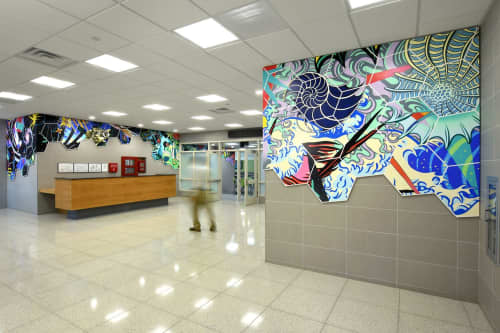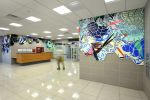 +15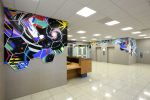 "Cosmic Bridge" - NYC Percent for Art Commission at PS101
"Cosmic Bridge" is a hand-painted mural installation spanning over 116 ft long x variable height w/ acrylic on modular Dibond panels. This immersive, permanent public work was commissioned & curated by the NYC Percent for Art Program for PS101K Brooklyn (New York). All artwork was designed & fabricated by the artist.
Collection of the NYC Department of Education, Public Art for Public Schools. Commissioned by the NYC Department of Education, NYC School Construction Authority Public Art for Public Schools program in collaboration with the NYC Department of Cultural Affairs Percent for Art Program. New school addition designed by PKSB Architects.
BRIEF OVERVIEW: Based on extensive research, abundant symbolism embeds this immersive installation to celebrate our cosmic and aquatic frontiers, referencing everything from PS101 alumnus Carl Sagan to Bensonhurst's rich maritime history. Cosmic and aquatic vignettes greet viewers in the lobby, merging whimsically with flora, fauna, and sea life indigenous to New York. As one moves through the installation toward the cafeteria, the climate changes from temperate to semi-tropical as the color palette morphs from cool to hot.
All artwork ©Peter D. Gerakaris. a.r.r.
Have more questions about this item?