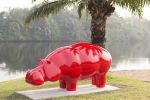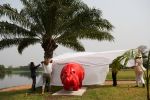 +3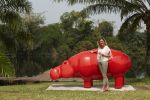 Hippo - Sculpture Hippo outdoor for The Royal Senchi Ghana - Public Art
Featured In The Royal Senchi Resort/Hotel, Akosombo, Ghana
Inquire about Comissioning a Custom piece
Hippo was made especially for The Royal Senchi, I made him in Amsterdam where I live and then Hippo was shipped to Ghana. The owners of the Royal Senchi Hotel wanted him to live right along the riverside, as in former times Hippo's used to live in this river. This way a tribute to nature was made. I had a wonderful time being invited for the inauguration of Hippo in Ghana.
Please contact me for any ideas, Hippo can be made on commission and shipped all over the world
Item
Hippo - Sculpture Hippo outdoor for The Royal Senchi Ghana
Have more questions about this item?