+1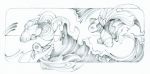 'Ramen Ichiraku' - Public Art
Featured In Ramen Ichiraku, Rosebery, Australia
Inquire about Comissioning a Custom piece
This mural was created for the new Ramen Ichiraku restaurant opening in Rosebery, it follows the story of a school of fish that swim in all directions of their lives along a line. Inspired by one of my favourite TED talks by Sir Ken Robinson, who said: "Life is not linear, it's organic. We create our lives symbiotically as we explore our talents in relation to the circumstances they help create for us".
For commissions, collaborations and all other inquiries, please email me directly at: christina-huynh@live.com
Have more questions about this item?