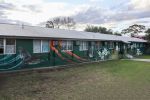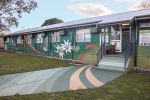 Featured In Granville East Public School, Granville, Australia
Inquire about Comissioning a Custom piece
Inspired by Duck River in Granville, a place that was once swarmed with waterfowl in the early 1900s, Belonging is a mural that resides on the office block of Granville East Public School. The only flower that continues throughout the wall is a flannel flower, which was chosen for its soft, woolly and resilient features. Painted during January 2020, among unprecedented bushfires raging over Australia, and through the smokiest of days, the flannel flower is said to be a native flower that sprouts after drought and bushfires.
For commissions, collaborations and all other inquiries, please email me directly at: christina-huynh@live.com
Have more questions about this item?