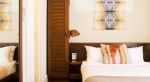 +1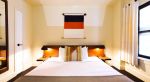 Creator not accepting inquiries
Studio Herron designer Dee Clements worked with renowned NYC interior design firm Roman & Williams to design and produce 163 hand woven pillows for the new Freehand Chicago hotel.
The oversized, nuanced pillow's measured 24" x 24" and were hand dyed and woven using organic cotton and wool from Meadowcroft Farm in Washington, Maine.
Additionally, two large tapestries were designed and woven by Dee Clements for the hotel's penthouse suites.
(Textile designer: Dee Clements; Weavers: Dee Clements, Judith Querciagrossa, Nina Lawrin, Kristen Wray)