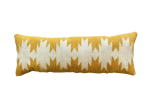 +2
Custom Options Available.
Ask The Creator
For Customization.
This incredibly soft yet durable wool pillow was handwoven in Mexico on a traditional foot loom by a family of weavers we work directly with. This beautiful color is dyed naturally therefore each batch has a slightly different hue. It is a truly dynamic color that brightens any room.
100% wool with canvas back, ochre and cream design
13" x 36"
Care: Machine wash on cold/delicate cycle and air dry or dry clean
We are proud to pay our weavers their asking price per design and consider ourselves a team throughout the entire process, from initial design in Denver to completion of the product in Mexico.
Pillowcase and insert included in price.
Shipping: 2-5 days
$3.99 Shipping in the US, ask the creator about international shipping.
Estimated Arrival: November 26, 2021
Have more questions about this item?