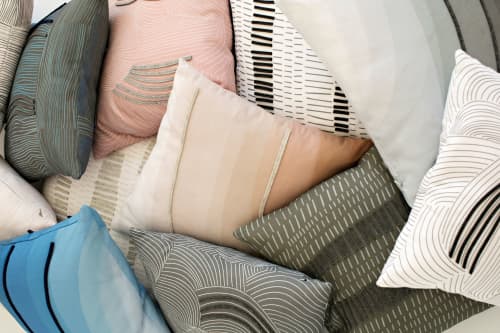 Image credit: Jami Saunders Photography

+4

New—Linen + Dimensional Felt Pillows!
Inquire about Comissioning a Custom piece
Building on the success of our dimensional wallcoverings, we are now offering a new linen + cotton pillow line, adorned with popular non-repeating patterns! The pillows sport thick, 3 mm dimensional felt, sewn by hand and assembled with love.
Inspired by fluid forms in nature, the collection currently consists of 4 vivid patterns—Melt, inspired by the melting colors of the setting sun; Cocoon, inspired by the beautiful swelling and protective nature of animal cocoons; Terrains, inspired by the shifting landscapes of our shared terrains, and Nest, inspired by the textures and subtle colors in woven animal nests. Each pattern comes in three stunning colorways. Custom fabric and felt colors are available!
Have more questions about this item?