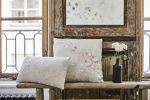 POWDER PINK SMALL LINEN CUSHION - Pillows
Dimensions
Weight

19.69H x 11.81W x 3.94D in
50H x 30W x 10D cm

0.59 kg
1.30 lb
Scattered on a natural background, these immaculate roses with a pink heart reveal a delicate palette inspired by boudoirs, where light pastels, creams and powdery pinks mingle in an enchanting dance.
Designed as a pair, the square cushion and the small cushion will combine naturally. Both from the same painting, they will bring refinement and extreme softness to your interior.
The linen, woven and printed in Italy, has been treated to obtain a soft and supple finish. The back of the cushion is made of natural linen from the Vosges region in France.
Item
POWDER PINK SMALL LINEN CUSHION
As seen in
Creator's Studio
, Paris, France
Have more questions about this item?