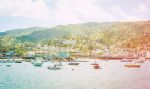 +1

Southern Islands - Photography
The pastel colors and the boats floating on the calm sea make this print feel so soothing on the wall. The turquoise gradation into a soft pink adds a really pretty touch of color to a room.
Photo taken of Avalon on Catalina Island.
Sizing details:
SMALL: ~ 22"
NO MAT
Print size: 21 x 12.6
Frame size: 22.13 × 13.73
WITH MAT
Print size: 18 x 10.8
Frame size: 22.38 x 15.18
MEDIUM: ~ 30"
NO MAT
Print size: 30 x 18
Frame size: 31.13 x 19.13
WITH MAT
Print size: 24 x 14.4
Frame size: 29.38 x 19.78
LARGE: ~ 41"
NO MAT
Print size: 40 x 24
Frame size: 41.13 x 25.13
WITH MAT
Print size: 34 x 20.40
Frame size: 40.88 x 27.28
We've chosen the natural wood gallery frame for each piece for its classic elegance and simplicity. It's beautiful, solid wood and is sized at .75" wide and 1.5" deep. Each piece is available with or without a white mat.
Your print will come with acrylic glazing instead of glass. Although acrylic is more expensive than glass, we use it because it offers superior UV protection, shipping durability, is lightweight, and beautifully clear.
Your piece will arrive with the hanging hardware most appropriate for the size of the piece. Depending on how large your finished piece is, we'll use sawtooth hangers, hanging wire, or corner brackets. We'll also include the corresponding nails and hooks to get your piece on the wall, all you'll need is a hammer!
The print itself will be printed on Premium Lustre or Enhanced Matte paper using archival inks, and we use an acid-free mat board and foam core backing. These are built to last!
Your piece will be custom-built and ready to ship out within 1-3 business days, and shipping takes about 2-4 business days via UPS.
Thanks for your visit and please reach out with any questions!
Shipping: UPS 2-5 days
Free Shipping in the US, ask the creator about international shipping.
Estimated Arrival: November 2, 2021
Have more questions about this item?