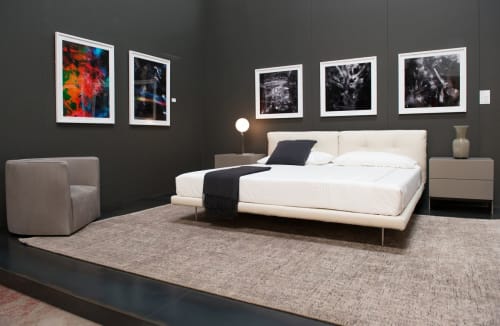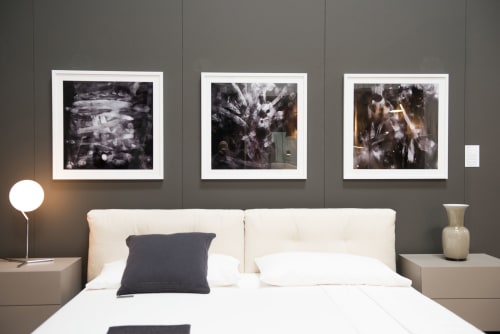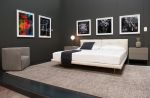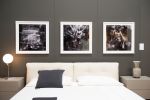 +11

Surface Tension - Abstract, Painterly
"Surface Tension" encourages us to see our relationship with everyday technology in unexpected ways, highlighting the marks we leave on glass screens, which we routinely ignore or erase. The subjects pictured beneath the surface record our culture while the smears of fingerprints record our lives, our flitting attentions. They map how we spend our time.
Using an 8x10 large-format camera, Soren shoots iPad screens under a raking light to reveal the tactile trail we leave behind. The science of touch makes clear that humans need to connect with the physical world, yet we spend an increasing amount of time satisfying only our sense of sight while touching the cold impervious surfaces of technological devices. "Trading photographs on tiny digital screens is a funny way to transact relationships," says Soren. "Just as 'LOL' is a funny kind of laugh and emoticons are a peculiar kind of language."
The images beneath the surface in "Surface Tension" also address touch, whether they depict a teenage girl blowing a kiss to her Mom or the fatal shooting by police of Michael Brown, which ignited riots in Ferguson, Missouri. Touch is also at issue, more abstractly, in the incremental damage done by the global human presence to the Great Barrier Reef, the Arctic and Greenland.
Soren's works are both painterly and resolutely photographic. They up-end the whole notion of a façade by bringing emotional depth to the surface and a mournful beauty to specular politics. Art historically, "Surface Tension" can be seen as a critique of the brutal alienation of Thomas Ruff's internet porn series and Richard Prince's Instagram paintings. Here, Soren is in dialogue with figures as diverse as feminist appropriation artist Barbara Kruger and the 19th century British painter of the sublime JMW Turner.
As a child, Soren was an avid recorder of her environment, taking snapshots with her pocket-sized Kodak Ektralite 10. Her father was in the air force and the family moved frequently around the USA, Germany and the Philippines. "Besides my immediate family, every person in my life changed every three years," says Soren. "I learned over time that if I got pictures of my friends, I could take them with me."
When Soren began her career in television in 1989, she shot her own video footage. She continued to be her own "cameraman" when she began covering politics for MTV News then shifting into directing the camera (aka producing). She was an on-air producer when she was awarded, in 1993, the Peabody Award for Excellence in Journalism for her coverage of the presidential campaigns of Bill Clinton and George Bush senior. In 1999, Soren took up a fellowship at Stanford University where she shifted her visual arts practice from 30 frames a second to single frame photographs.
Send an inquiry to the Creator to buy/commission a piece like this