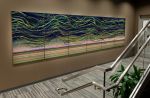 Corporate Installation - Photography
Featured In San Antonio, San Antonio, TX
Inquire about Comissioning a Custom piece
Large commission works for an engineering firm, located in San Antonio, Texas. Each piece is 5.5' x 20'. Slit-scan photography of water. Printed with UV cured inks on acrylic.
Pape Dawson is a civil engineering firm with special interest in water. These pieces correlate to that interest and the photographic technique (slit-scan) speaks to the technical nature of engineering.
Have more questions about this item?