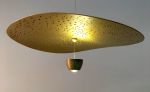 +7

Custom options available, ask the creator for customization.
A cascading succession of metallic golden clouds. Each disk is sculpted by hand in our Vancouver studio, making every assemblage a unique artwork. With their hammered surfaces, each piece is unique and will catch reflecting light nicely. This installation is so light that it moves with the slightest breeze and casts captivating shadows onto the ceiling. The simple lines are both elegant and ageless. Invite a piece of art into your home & be prepared to be dazzled.
Each piece can be customized to fit your space.
Have more questions about this item?