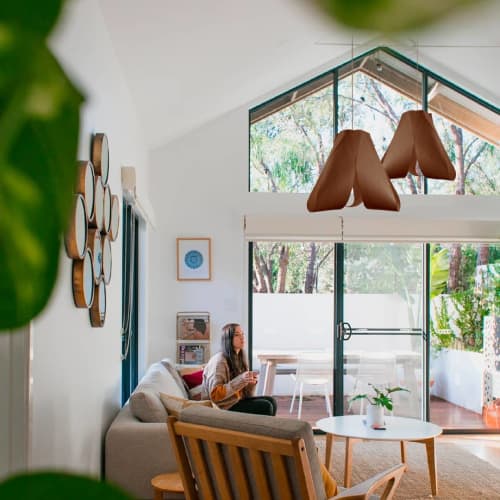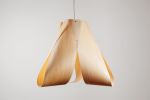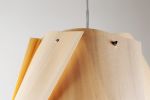 +1

Anker Lighting-Wood Veneer Lamp Manually Crafted Designer - Pendants
Craftmanship Product!
In Anker, I represent the concept of a Gropel type of anchor. Three plates run along a curved path and then intersect to shape this nautical object. The Anker model has been awarded with the Argentine Good Design Label (Seal #1678).
It is built with natural wood veneer sourced from sustainable forests. With this traslucid and noble material, you will appreciate the wood grain.
In its simplest aesthetic meaning, wood grain is the alternating regions of relatively darker and lighter wood. It is an aleatory pattern drawed by nature and enviromental conditions. Because it is unique and unrepeatable, it makes your light fixture so special.
Quality: I enhace the wood veneer with the HARZ/LTW technollogy. This invention allows a durable and flexible wood that keeps its tone over time and resists to humidity, heat, sunlight and cracks.
Clean and maintenance: just clean it with a damp cloth to remove dust!
Sustainability: The natural wood veneers are obtained from a sustainable forest in Argentina. The tree specimen is listed as "apt for cutting without enviromental risk" by the Argentinian Law of Forests.
Sizing:
H: 20.5 in.
W: 23.6 in.
D: 23.6 in.
Light bulbs capacity: 1 lamp E26/E27 LED or Smart LED.
Finishes:
If you want an intense light and a good appreciation of the wood grain, choose Natural or White.
If you don't want a full lighting capacity, have complementary lights or just want this fixture as decorative in a particular color, choose Oak, Chocolate, Coral, Red, Black, Turquoise or Gray.
Have additional questions? Please don't hesitate to message me, I will gladly help you with any inquiries.
Shipping: DHL 5-7 days
Free Shipping in the US, ask the creator about international shipping.
Estimated Arrival: February 11, 2022
| Dimensions | Weight |
| --- | --- |
| 20.5H x 23.6W x 23.6D in | 2.6 lb |
Returns accepted within 14 days
See details
Item
Anker Lighting-Wood Veneer Lamp Manually Crafted Designer
As seen in
Private Residence
, Seattle, WA
Have more questions about this item?