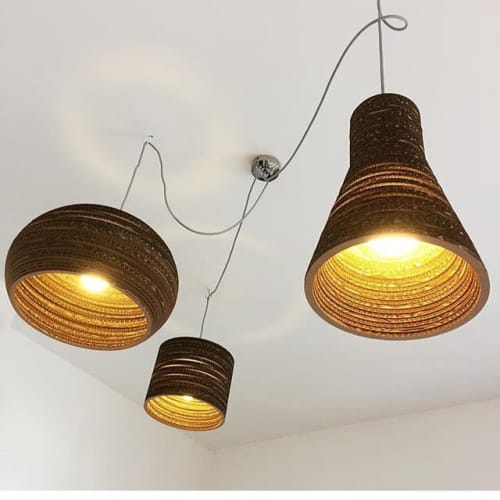 +3

CartOn C3, C5 & C10 cardboard pendant lights at Unlimited Design Shop and Gallery in Brighton.
Product Description:
A sustainable pendant light that elevates everyday cardboard to a surprising new form. Crafted by hand in layers with non-toxic, biodegradable glue.
Dimensions:
- CartOn C3: D 221mm H 355mm
- CartOn C5: D 450mm H 275mm
- CartOn C10: D 318mm H 247mm
Materials: Entirely made from 85% recycled cardboard, FSC certified and locally sourced.
Maximum wattage: CartOn C3 - 60w incandescent, CartOn C5 - 100w incandescent. Also compatible with CFL and LED lamps of equivalent wattage.
Shipping: 3-4 days
$62.45 Shipping in the US, ask the creator about international shipping.
Estimated Arrival: August 22, 2021
Have more questions about this item?