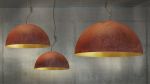 +4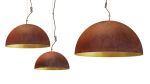 THE QUEEN PENDANT LIGHT
Featured In d&d Building, New York, NY
THE QUEEN PENDANT LIGHT - The exterior of "the Queen" is made from corroding steel, while the inside of the lamp is covered with 23.75 carat gold plate. The spherical gold-plated form creates the illusion that the entire inner surface of the sphere radiates light. Its clean lines and simplicity characterize the shape of "the Queen". In turn, the ambitious combination of materials creates a truly impressive image.
In this lamp the most valuable face of metal meets the poorest.
These two surfaces are entirely handmade; the queen's golden shine is guaranteed by the handcraft of expert goldsmiths, while nature draws spontaneous and unpredictable patterns on the rust. No two "Queens" on earth are the same!
Design by Ieva Kaleja for "Mammalampa"
Dimensions:
Small - D 8" x H 4"
Medium - D 18" x H 8.8"
Large - D 22" x H 11"
Extra Large - D 35" x H 18"
$59-$299 Shipping in the US, ask the creator about international shipping.
Have more questions about this item?