+3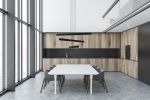 The exquisite Sub Pendant Circular 3 emits a soft, warm glow from a trio of linear LED lights. A continuous line of LED light wraps around each individual pendant. Sub is compatible with dimmers so that users can adjust the brightness according to their mood or preference. The barely-there suspending wires (up to 10') and sleek canopy complete the distinguished profile of a modern classic.
Shipping: 3-8 days
Free Shipping in the US, ask the creator about international shipping.
Estimated Arrival: December 23, 2021
Have more questions about this item?